ENGEO and the Christchurch Adventure Park have teamed up to create a new race event that will raise money to help more young people into the sport of mountain biking.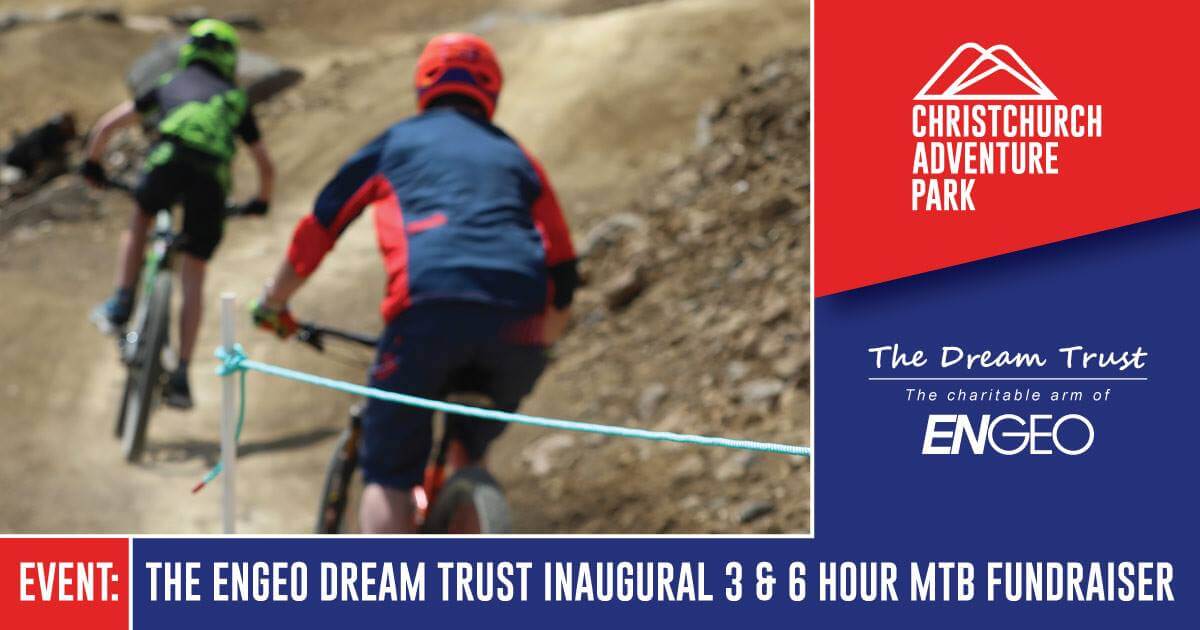 The inaugural ENGEO Dream Trust 3 & 6 Hour MTB Fundraiser will take place on 3 November at the Christchurch Adventure Park (CAP), with proceeds going towards developing a 'Riding Scholarship' for ten youths to come mountain biking. This will include providing a bike, lessons at CAP and a lift pass to ensure they get up the hill and practice their skills regularly.
"We love what the Christchurch Adventure Park offers, but we know that not everyone has the ability to access the gear and take advantage of this awesome facility. That's where the idea for this fundraising event came along – we thought, wouldn't it be awesome if we could remove the socio-economic barriers and help a few more kids give this sport a go," ENGEO Managing Director Greg Martin said.
ENGEO established The Dream Trust in 2013, out of a desire by its staff to give back to the communities that have helped ENGEO grow into the company it is today. The Dream Trust is funded directly by the individual employees at ENGEO; ENGEO itself and anyone else who would like to support the organisation along the way.
To date, The Dream Trust has supported a bunch of deserving people who just need a little helping hand in life, and this October ten more young people will benefit from the work of the Trust.
High-school students aged between 12 and 17 years from all over Christchurch will have the opportunity to be nominated, or to nominate themselves, for support to give mountain biking a crack, thanks to this partnership between ENGEO Dream Trust and the Christchurch Adventure Park. Out of the ten students who are awarded the 'Riding Scholarship', some of those who show the greatest promise and enthusiasm for more will be selected for a full year scholarship, to ensure they get a really solid start on the sport.
Christchurch Adventure Park General Manager, Anne Newman, said it was clear from when conversations first began with ENGEO that they shared the same vision as CAP for getting more youths out on bikes:
"This partnership with the ENGEO Dream Trust works so well because we have a common purpose and share the same drive to achieve it. We can't wait to meet these young people and get them going on our trails. And the bonus is that we get to run this fantastic new race event in the process, which will be an awesome day out for riders and a fun way for them to contribute to a great cause."
The Event
When: On November 3 Christchurch Adventure Park will play host to a 3 and 6 hour event, starting at 10am
Who: This can be completed as individuals or in teams of up to 4 people.
Course: There will be a 'Race Village' where you will be able to set up tents, cars, bring up food, drinks and make a day out of it.
The course will take you down either:
the green trail (Duncan's Donuts – Active Rest/Snakeobs – Non Compliant)
or the blue trail (Lord of the Possums) before going up the chairlift and then back to the village via Duncan's Donuts or Lord of the Possums.
Winners: The winners will be individuals/teams that have completed the most laps in both the 3 and 6 hour events. There will be prizes for first, second and third place across teams and 1st and 2nd male and females in the individual categories.
Cost:
3 Hour Individual: $50pp
3 Hour Team: $160 per team
6 Hour Individual: $60pp
6 Hour Team: $200 per team