Client Project Portals
ENGEO has utilized GIS to elevate projects to new levels by creating interactive, web-based, project portals. These flexible portals capture, analyze, manage, and present project data in one consolidated place. Each portal serves as a central point of collaboration among project stakeholders. ENGEO has helped clients manage various elements of multiple complex projects and master-planned communities ranging from Stormwater Pollution Prevention Plan (SWPPP) implementation, environmental site assessments, site development progress, long term monitoring and maintenance, and geologic hazard abatement districts (GHADs).  
The flexibility of our portals allows project data to be presented in tables, images, plans, and documents in a secure, centralized platform. Using the most up-to-date tools and methods, we produce innovative solutions to help our clients visualize and understand complex data associated with their projects and market trends.  Using the GIS portal as a project hub improves discussions, facilitates decision‑making, and increases efficiency. Beyond the design and development phases, the GIS portal can be used well into the future by storing operations and maintenance data, compliance documents, monitoring data, and closeout documents. 
IMAGE BELOW LINKED TO GIS Demo Portal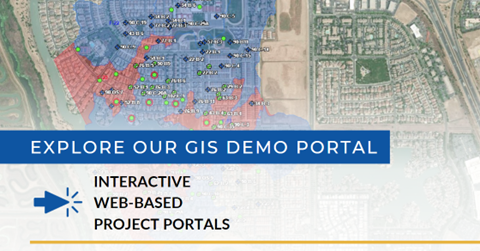 Contact Service Specialist