Down Syndrome Connection of the Bay Area's 20th Step Up Walk and Family Picnic commenced on Sunday, October 7th. ENGEO had the chance to join the fun by volunteering at various booths throughout the quarter-mile walk. $227,173 was raised to help fund programs that help empower the down syndrome community.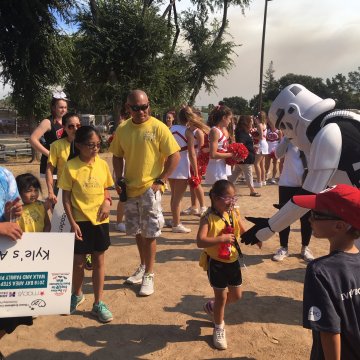 The participants had a chance to take photos with their favorite Star War's characters, play carnival games and mini golf, get their face painted, and stop by a pumpkin patch.
Teresa Klotzback, a Staff Engineer from our San Ramon office, summed up the day perfectly:
"Sunday was a completely wonderful and heartwarming day! The event raised a lot of money for the Down Syndrome Connection of the Bay Area, which provides a ton of services including new and expectant family support, educational and developmental therapy, music therapy, speech services, and support groups. The day of the event was warm and sunny and filled with carnival-style events, performances, and the walk itself. I got to man the bubble booth, which means that I basically watched kids smile, laugh, and dance around all day. It was awesome!"
We were so happy to receive this message from the Event Coordinator, Melissa Benavidez,
"Thank you for your help on Sunday! And please pass along sincere appreciation to the ENGEO group that came out to assist at the Bay Area Step Up for Down Syndrome Walk & Family Picnic. They were AWESOME and willing to step in wherever needed! We had a successful day, thanks to volunteers like you guys who contributed time and helping hands to make our event run as smoothly as possible! Appreciate your help!"
Down Syndrome Connection of the Bay Area is part of DS Connex, empowering down syndrome communities. The organization provides programs and collaborations to give the community a bigger voice. If you would like to donate click here.